I'm not a huge make-up and skin care person but I do have some tried and true favourites that I use over and over again. Some of these products I've been using for years and others only for the past few months. Either way I love all of them and wanted to share them with you.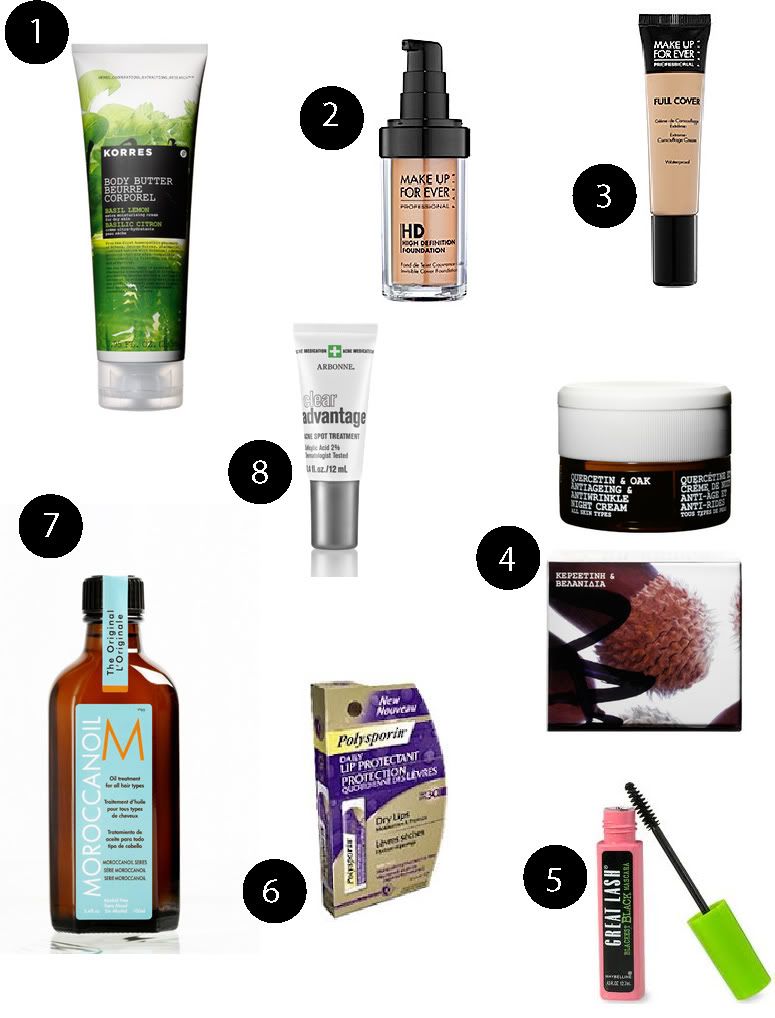 1.
KORRES Basil Lemon Body Butter
- I'm new to the KORRES product line but now I'm addicted thanks to this Basil Lemon cream. It feels amazing on my skin (I moisturize every time I get out of the shower) and I absolutely love the light fresh scent.
2.
MAKE UP FOR EVER HD Foundation
- I recently went on the hunt for a new foundation and through the magic of Twitter several of my followers recommended this one to me. It's the best foundation I've ever owned. It's light, has good coverage and blends perfectly!
3.
MAKE UP FOR EVER Full Cover Concealer
- I wasn't super thrilled with the concealer I was previously using so while I was at Sephora testing out foundations, I decided to get a tester of this concealer. It's great! It has good coverage and lasts all day.
4.
KORRES Quercetin and Oak Antiageing & Antiwrinkle Night Cream
- I've never used a night cream or antiaging/antiwrinkle product until just a couple of months ago. I started using the KORRES night cream since my skin is so dry in the winter and it keeps my skin moisturized and smooth. It has a nice scent and isn't too thick which is really important to me in a face cream.
5.
Maybelline Great Lash Mascara
- I've been using this mascara for years and I love it! I've gone through other mascaras that are much more expensive than this one and to tell you the truth I can't tell the difference. I like my mascara to look natural which is why I'm a fan of Great Lash.
6.
Polysporin Daily Lip Protectant
- I am a lip balm addict and I always have about 4 lip balms on the go - one in my car, one in my purse, one on my desk and one on my bedside table. I started using this Polysporin one a couple of years ago and I love how smooth it goes on. It also has a really nice light scent.
7.
Moroccan Oil
- I've been using this product for a couple of years and think it's just great. Not only does it seem amazing but it keeps my hair looking shiny and healthy. I put a dab in my hair when it's wet and before I blow dry. Once my hair is blow dried and flat ironed, I run a little bit more through my hair to tame the fly aways.
8.
ARBONNE Clear Advantage Acne Spot Treatment -
I started using this acne spot treatment 3 months ago and it's a miracle worker! When I feel a zit popping up, I just dab a little bit of this on it and it usually goes away.