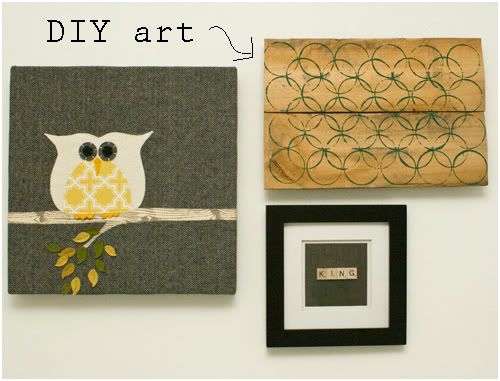 What you`ll need:
An old skid
Saw
Drill
Screws
Plastic cup
Acrylic paint
1. Decide on the size of your art piece and cut your two pieces of wood to size.
2. Cut two more pieces of wood that are about two inches shorter than the length of your art piece. Screw these two pieces onto the back of the first two pieces. This helps hold the art piece together.
3. Dip the rim of the plastic cup into the paint and press firmly onto your wood piece starting at the top left corner. Repeat this placing the next one directly beside the first one. Continue until your wood is covered.
4. Once the paint is dry it`s time to do the next round of circles. Dip the rim into the paint (you can choose another colour for this step but I decided to keep the same colour) and press the cup in the middle of the top left four circles. Repeat this until all the middles have been printed.
5. Trim off any excess wood on the right side of your art piece.