Borrowed from the Boys: DIY Bow-Tie Necklaces
Bows have enjoyed a great amount of attention in the past few years. Found on everything from
headbands
, to shoes, and shirts, this accessory keeps growing in popularity and
size
. This spring women have borrowed the bow-tie from the
boys
giving it a new, androgynous association. To meet in the middle, I developed a Bow-Tie Necklace DIY project. Part girl, part boy, and part sass this is the perfect accessory for those who want a mix of masculine and feminine touches in their outfit. Use leftover fabric, an old unwearable garment or invade your fathers and boyfriend's closets to make this fun spring time accessory.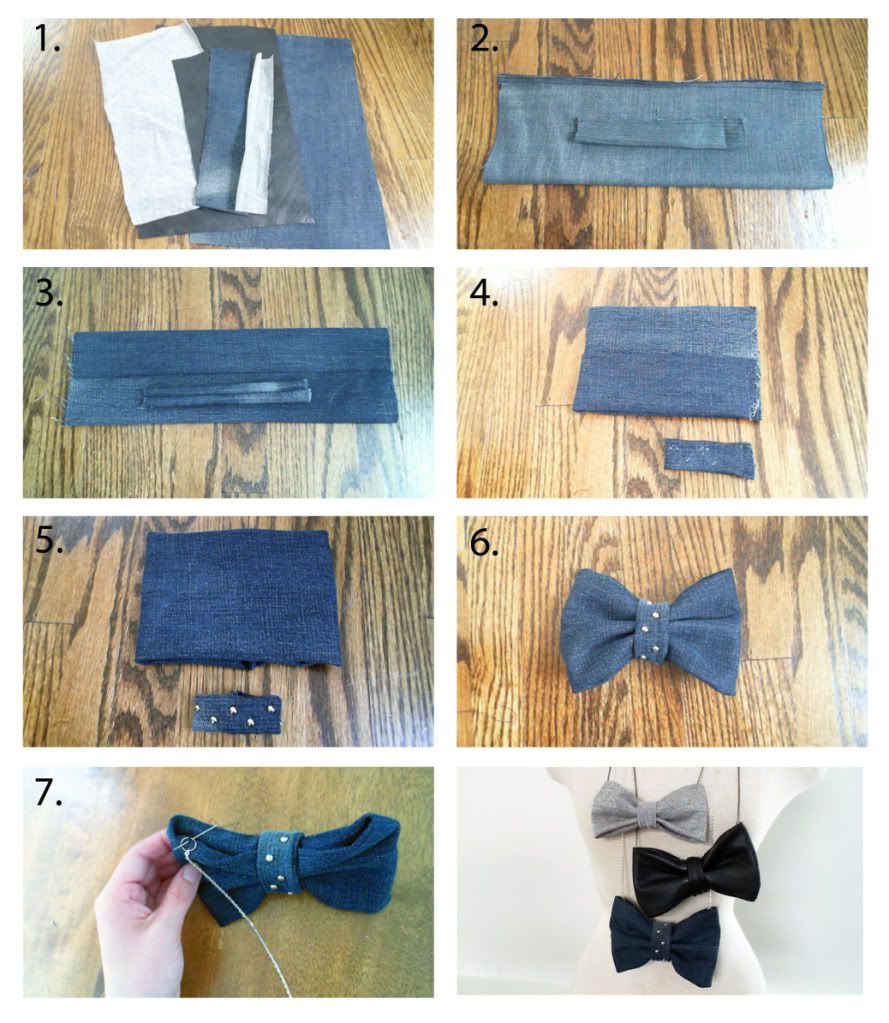 What You Need
8" x 10" Fabric square for main bow
2" x 4" Fabric square for center strip
Chain & Connector Rings: found at any bead or craft store
Needle-nose pliers
Sewing machine
Hand-sewing needle and thread
Embellishment: Studs, buttons, lace, etc. (optional)

Instructions
1. Cut fabric into squares according to the above dimensions. You can change the size depending on the look you want to achieve.

2. Turn the fabric right side (the nice side) in and sew a seam 1/4" securing the raw sides together. This will make a tube. Repeat for center strip. Press open your seams.
3. Sew the final raw edges together (1/4") making a finished circle. Repeat for center strip.

4 .Fit the center strip into the middle of the finished circle. You have made a bow!
5. Take your connector rings and hand sew them into the middle of the bow at opposing ends.

6. Use needle-nose pliers to pull apart your chain and connect it to the rings you sewed in the middle of the bow.
7. You're done! Play with different fabrics, lengths, and embellishment.

Thank-you Renee for letting me guest post on Eat.Live.Shop.!Kaitlin, My Vintage Secret